PRINT FLYERS
CLICK HERE for download & printing Instructions
11 x 17 PDF (2.0 mB)
Half page JPG (153k)
Full page JPG (396k)
Click to download and Save each file before printing. Some computers may require right-click or Control-click.
On most printers, print PDFs with "Fit to Page" un-checked to avoid adding extra margin.
JPG is saved at 288 dpi, or 4x size.
---

PDF requires Adobe Reader. Click to select a free download, if needed.
Scroll down for text version...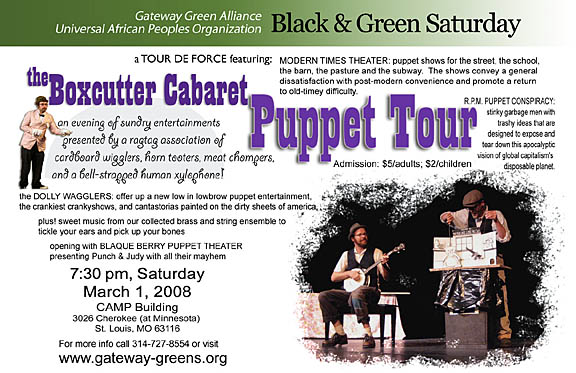 The Boxcutter Cabaret PUPPET TOUR
WHEN: 7:30 pm, Saturday, March 1, 2008
WHERE: CAMP Building, 3026 Cherokee (at Minnesota)
St. Louis MO 63116
the BOXCUTTER CABARET
an evening of sundry entertainments
presented by a ragtag association of
cardboard wigglers, horn tooters, meat chompers,
and a bell-strapped human xylophone!

a TOUR DE FORCE featuring:

MODERN TIMES THEATER:
puppet shows for the street, the school,
the barn, the pasture and the subway.
The shows convey a general dissatisfaction with
post-modern convenience and
promote a return toold-timey difficulty.

R.P.M. PUPPET CONSPIRACY:
stinky garbage men with trashy ideas
that are designed to expose and tear down
this apocalyptic vision of global
capitalism's disposable planet.

the DOLLY WAGGLERS:
offer up a new low in lowbrow puppet entertainment,
the crankiest crankyshows,
and cantastorias painted on the dirty sheets of america

plus! sweet music from our collected
brass and string ensemble
to tickle your ears and pick up your bones

opening with

BLAQUE BERRY PUPPET THEATER
presenting Punch & Judy with all their mayhem

Admission: $5/adults; $2/children

Sponsored by Gateway Green Alliance and Universal African Peoples Organization. For more information call 314-727-8554 or visit: